Strip Packing Machine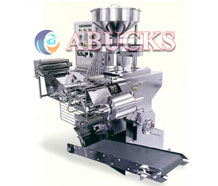 Application and Process
Abucks offers Strip Packing Machines for packaging of various pharmaceutical and food products such as tablets, capsules, lozenges etc. which has auto feeding, sealing and cutting. The product (tablets) are packed in between two continuously moving laminated aluminium foil sheets due to hermetic sealing, the product is sealed and packed inside the pocket formed between two heat sealing rollers cavities and are cut by vertical and horizontal cutters fixed to get desired size and shape of strip further this type of packaging increases the shelf life of product by preventing moisture to enter and get in direct contact with the product. In packaging Tablet Strip Packaging Machine, Capsule Strip Packing Machine, Caplet Strip Packaging Machine, Soft Gelatin Capsule Strip Packing Machine, Chocolate Strip Packaging Machine, Chewing Gum Strip Packaging Machine, Tobacco Strip Packaging Machine, Toffees Strip Packaging Machine, Supari Strip Packaging Machine, Lozenges Strip Packaging Machine.
Salient Features
Machine body is made with matt finish high quality stainless steel very easy to operate, durable, low noise with auto feeding hopper and conveyor with max foil width 100 mm to 300 mm. single operator is required to operate and easy change parts mechanism.
suitable for packaging almost all type of heat sealable materials like aluminium poly, paper poly, glassing-paper etc.
suitable for packaging product which requires special care prevention against moisture and contamination.
various models available as per requirement of speed like machine with two track, four track, six track and eight track.
Technical Specification
| | |
| --- | --- |
| Foil width | 105 mm to 310 mm |
| Production output | 600 to 3000 strips per min |
| Drive motor | 0.5HP, 3 phase 415V, 50Hz |
| Dimension | L-1000 mm, W-850mm, H-1800mm |
| Weight | 500 Kg approx. |
PLEASE NOTE: The information given herein is correct but ABUCKS INC, with their policy of continuous improvement of products has rights to change given specifications and model without prior information. For latest technical specification and any changes customers are advice to contact ABUCKS INC head office.
Contact Us
Abucks Inc
Contact: Mr. Joshi
Regd Office: 77/7, Unit Front Side,
B.D.D Block, Near Mahindra Tower Worli,
Mumbai, Maharashtra, 400018, India.