Semi Automatic Capsule Tray Loading Machine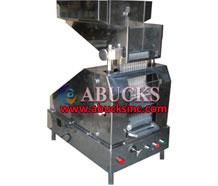 Application And Process
Semi-Automatic capsule loading machine is used for loading empty capsule in trays for filling capsule manually. This machine is used to increase productivity in small scale capsule manufacturing unit. As the maximum time consumed in manual capsule filling is to load empty capsules in tray.
Technical Specification
| | |
| --- | --- |
| Dimension of machine | 25000 capsules per hrs |
| Loading speed | One 300 holes tray in 30 sec |
| Motor | 0.25HP |
| Electric power | 220V/50Hz |
| Dimensions | L- 600mm W -450mm H- 950mm approx. |
| Weight | 110 Kg approx. |
PLEASE NOTE: The information given herein is correct but ABUCKS INC, with their policy of continuous improvement of products has rights to change given specifications and model without prior information. For latest technical specification and any changes customers are advice to contact ABUCKS INC head office.
Contact Us
Abucks Inc
Contact: Mr. Joshi
Regd Office: 77/7, Unit Front Side,
B.D.D Block, Near Mahindra Tower Worli,
Mumbai, Maharashtra, 400018, India.