Manual Paste / tube Filling Machine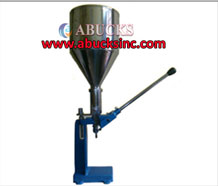 Application and Process
This machine is Manually Operated Suitable to fill tubes, cans, bottles in the range of 10 ml to 250 ml per stroke can be used in filling paste, paints, Jelly, gulkand, kiwam, adhesive, grease, chyawanprash, cosmetic creams, ointments, mango pulp and honey.
Salient Features
All contact parts are made up of SS304 / ss316
Filling range with change parts: 10 to 250gm per stroke.
Available in hand and foot operated models.
SS made hopper having capacity up to 20kg
Easy to use, no maintenance required.
Production capacity up to 15-20 tubes per min.
Request Quote
PLEASE NOTE: The information given herein is correct but ABUCKS INC, with their policy of continuous improvement of products has rights to change given specifications and model without prior information. For latest technical specification and any changes customers are advice to contact ABUCKS INC head office.
Contact Us
Abucks Inc
Contact: Mr. Joshi
Regd Office: 77/7, Unit Front Side,
B.D.D Block, Near Mahindra Tower Worli,
Mumbai, Maharashtra, 400018, India.