Tray Dryer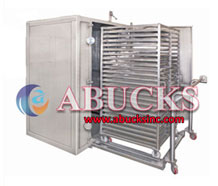 Application And Process
Tray Drying Ovens are used for drying of pharmaceutical powders, granules, Pigments, Food etc in an effective and economical way by hot air re-circulation. Tray dryer is an enclosed insulated chamber in which trays are placed on top of each other. Heat transfer is done by circulation of hot air by electric heaters or any other heating media. Blower fans are installed inside to ensure proper circulation and transfer of heat.
Salient Features
Available in 24, 48 and 96 Trays.
All contact parts SS 316/304 & non-contact parts AISI 304/ M.S. with painted.
Highly effective uniform air re-circulating system by low speed fan.
Inlet air filter and damper at inlet and exhaust air damper for air flow controls.
Controls panel with Digital temperature controller and process timer controller.
Request Quote
PLEASE NOTE: The information given herein is correct but ABUCKS INC, with their policy of continuous improvement of products has rights to change given specifications and model without prior information. For latest technical specification and any changes customers are advice to contact ABUCKS INC head office.
Contact Us
Abucks Inc
Contact: Mr. Joshi
Regd Office: 77/7, Unit Front Side,
B.D.D Block, Near Mahindra Tower Worli,
Mumbai, Maharashtra, 400018, India.