Turn Table / Unscrumbler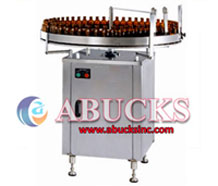 Application And Process
Turn table is built with SS frame,& reduction gear box for noiseless performance. Turntable is useful in uniform flow of bottles. The bottles or containers are loaded manually on turntable which automatically will rotate on disk of turn table and exit through outlet, during rotation of bottle/container will guided by a SS strip, which will guide the container towards outlet path
Features
Design as per cGMP - Current Good Manufacturing Practices compliance1
Available different model with 20",30",36",48" diameter of turn Table.
Special self-aligning bearings ensure smooth and trouble free operation.
S.S. Elegantly Matt Finished Body.
Request Quote
PLEASE NOTE: The information given herein is correct but ABUCKS INC, with their policy of continuous improvement of products has rights to change given specifications and model without prior information. For latest technical specification and any changes customers are advice to contact ABUCKS INC head office.
Contact Us
Abucks Inc
Contact: Mr. Joshi
Regd Office: 77/7, Unit Front Side,
B.D.D Block, Near Mahindra Tower Worli,
Mumbai, Maharashtra, 400018, India.