Fully Automatic Tube Filling Sealing & Coding Machine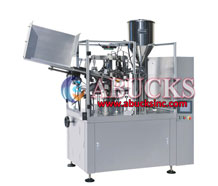 Application And Process
Fully automatic Tube filling is designed for filling and sealing process in high speed to be completely untouched with single machine process. Tubes are loaded in bulk the process is fully automatic for filling, sealing & coding This unit comes in various batch capabilities to handle a large range of tube sizes and shape by change of parts as per requirement further the maximum production capacity 100 tubes per mins can easily be obtained by this machine.

Application in hair dye tube filling machine, chemical tube filling machine, sauce tube filling machine, glue tube filling machine, cosmetic tube filling machine, wax tube filling machine, shaving cream tube filling machine, gel tube filling machine, pesticide tube filling machine.
Salient Features
Machine Capacity fills from 5 gram. to 250 gram. Max output: 40/60/80/100 tubes per min.
Machine body Construction Mild Steel heavy duty fabricated, with Epoxy Powder Coated with all Safety Cover made from 18 gauge SS 304 and all contact parts with SS 316 grade.
Filling System -Positive Suction & Displacement. Attached Pneumatic Blow Tail Cut-off with Control System.
NO TUBE - NO FILL Device with Filling Accuracy +/ - 0.1%..
Indexing System Geneva Mechanism.
Syringe Pump Single Head Type Insert for Filling (5 Grams. to 30 Grams.) (30 Grams. to 100 Grams.) (100 Grams. to 250 Grams.) Any one of the three sets will be provided against requested specification in your order.
Jacketed Hopper Double Head Type of Capacity of 40 liters. Temperature Controller with SS Tubular Heater. Belt Less Stirrer Device with augur to keep the product in Continuous homogeneous condition. Geared Motor 0.5 HP, RPM-40 REMI make. With Label Sensor and controller.
Lami / plastic Tube heating device Activate on Leister Model Type 3000 Hot Air Tool 8D1 Swiss Make one set. With Hot air Tool adopter Jacketed SS-304, one set. And tube-heating adopter cooling ring centers the tube so That heating is uniform around the tube. Blower: 0.5 HP. (MINI VAC Make) one set.
Lami / plastic Tube Sealing Device Activate on Pneumatics. In sealing & coding wherein the tube is pressed & sealed and then coded with metal stereos coding letter punch (female 0 to 9, one set).
Electronic Digital filled Tube Production Counter.
Overload Clutch for Centering and Micro Switch Cut-Off System.
Main Motor 2 Hp, With Separate Drive System.
Request Quote
PLEASE NOTE: The information given herein is correct but ABUCKS INC, with their policy of continuous improvement of products has rights to change given specifications and model without prior information. For latest technical specification and any changes customers are advice to contact ABUCKS INC head office.
Contact Us
Abucks Inc
Contact: Mr. Joshi
Regd Office: 77/7, Unit Front Side,
B.D.D Block, Near Mahindra Tower Worli,
Mumbai, Maharashtra, 400018, India.