Automatic Rotary Bottle Washing Machine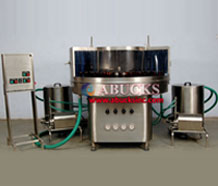 Application And Process
This rotary washing machine is sturdy and compact elegant design. The bottles are manually loaded for washing and unloaded on rotating platform after performing series of cleaning operations. The bottles are placed in inverted position in cup shaped holders with spraying showers does the cleansing with various washing methods as per requirements of process. The machine operates on the rotary principle with "GENEVA" mechanism.
Salient Features
The machine is suitable for small vials and for bottles as per requirement.
All contact parts are stainless steel 316 grade.
Machine is provide with two water tanks for multiple water washing and two centrifugal pumps for air wash.
Technical Specification
| | |
| --- | --- |
| Dimension of machine | L-1500mm W -1700mm H - 1300mm |
| Container size | 22 mm to 100 mm maximum height 280mm |
| Container neck size | 22 mm to 38 mm |
| Electric heater | 3 KW (heating water) |
| Electric supply | 0.5 HP/440V/3PHASE/50Hz for machine1 HP/440V/3PHASE/50Hz for water pump |
| Total electric load | 5 KW |
| Air pressure | 5 C.F.M |
Request Quote
PLEASE NOTE: The information given herein is correct but ABUCKS INC, with their policy of continuous improvement of products has rights to change given specifications and model without prior information. For latest technical specification and any changes customers are advice to contact ABUCKS INC head office.
Contact Us
Abucks Inc
Contact: Mr. Joshi
Regd Office: 77/7, Unit Front Side,
B.D.D Block, Near Mahindra Tower Worli,
Mumbai, Maharashtra, 400018, India.