Manual Foil Sealing Machine For Glass Or Cup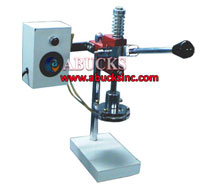 Application And Process
This foil sealing machine which is hand sealing machine has temperature control for accurate sealing application for cup or glass sealing machine for packaged drinking water cup sealing machine and small jar foil sealing machine.
Technical Specification
| | |
| --- | --- |
| Sealing diameter | Upto 100 mm |
| Digital temp | 02 to 200 degrees |
| Electric power | 230v/50Hz - 500 w |
| Machine weight | 15 kg approx |
Request Quote
PLEASE NOTE: The information given herein is correct but ABUCKS INC, with their policy of continuous improvement of products has rights to change given specifications and model without prior information. For latest technical specification and any changes customers are advice to contact ABUCKS INC head office.
Contact Us
Abucks Inc
Contact: Mr. Joshi
Regd Office: 77/7, Unit Front Side,
B.D.D Block, Near Mahindra Tower Worli,
Mumbai, Maharashtra, 400018, India.