Semi Automatic Rotary Tube Filling Sealing & Coding Machine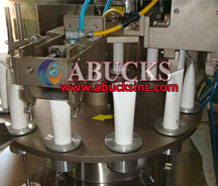 Application And Process
Tube filling and sealing machine is designed with filling and sealing process to be completely untouched and single machine process. Tubes are manually loaded in cups than fully automatic operations for filling, sealing & discharge The unit comes in various batch capabilities to handle a large range of tube sizes and shape by change of parts as per requirement.

Application in Ointment Filling Machine, Cosmetic Cream Filling Machine, Pesticide Tube Filling Machine, Shaving Cream Tube Filling Machine, Ketchup Tube Filling Machine, Honey Tube Filling Machine, Gel Tube Filling Machine, Scrub Tube Filling Machine, Hair Dye Tube Filling Machine, Chemical Tube Filling Machine, Adhesive Tube Filling Machine, Paint Tube Filling Machine.
Salient Features
Designed as per proposed cGMP - Current Good Manufacturing Practices Compliance
Sturdy rotary compact model made of high quality with all contacts parts made of SS316 and non-contact parts of 304.
Filling accuracy + 1 %
Simple Mechanism & Operator Friendly Machine.
NO TUBE-NO FILL device.
Charging Hopper is provided with jackets for heating and agitator assembly.(optional)
Cup holder is made from nylon materials.
Technical Specification
| | |
| --- | --- |
| Production output | 30 to 40 Tubes / min |
| Filling volume | 5 grams to 250 grams |
| Electric motor | 1 HP |
| Agitator motor | 0.5 HP |
| Electric heater in jacket | 0.5 HP |
| Machine dimension | L-1500 X W-1180 X H-1800 |
| Weight | 500Kg approx. |
Request Quote
PLEASE NOTE: The information given herein is correct but ABUCKS INC, with their policy of continuous improvement of products has rights to change given specifications and model without prior information. For latest technical specification and any changes customers are advice to contact ABUCKS INC head office.
Contact Us
Abucks Inc
Contact: Mr. Joshi
Regd Office: 77/7, Unit Front Side,
B.D.D Block, Near Mahindra Tower Worli,
Mumbai, Maharashtra, 400018, India.