Manual Induction Sealing Machine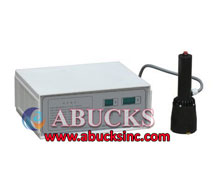 Application And Process
This is a hand held induction sealing machine very simple to operate which offers flexibility and portability for packaging with good sealing capacity from smallest closures to wide mouth containers, further this type of induction sealer is best for laboratory and start-up factories with aspiration to increase productivity ,this unit does not require special power or water its simple just plug the power supply set the timer to the number of seconds the container requires for strong and secure induction seal. Place the sealing head on the cap and press the trigger on the handle till the timer is set for sealing the wads.
Request Quote
PLEASE NOTE: The information given herein is correct but ABUCKS INC, with their policy of continuous improvement of products has rights to change given specifications and model without prior information. For latest technical specification and any changes customers are advice to contact ABUCKS INC head office.
Contact Us
Abucks Inc
Contact: Mr. Joshi
Regd Office: 77/7, Unit Front Side,
B.D.D Block, Near Mahindra Tower Worli,
Mumbai, Maharashtra, 400018, India.