Automatic Screw Capping Machine (ROPP/PLASTIC Caps)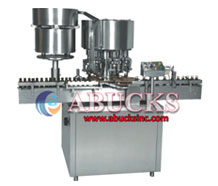 Application And Process
Automatic rotary screw capping machine comes with PLC control with automatic torque control grasping and capping to deliver optimum performance. This machine can be linked to filling machine and labeling machine with easy changeover parts, its body is stainless steel material 304 grades with height adjustment system. The containers are feed on moving conveyor belt further the rotating head pick up a cap from the delivery chute of cap filling bowl, where the body and neck of the container are positioned below the rotating head and sealing head performs perfect sealing of cap by pre-set torque.
Salient Features
No container no cap arrangement
304/316 Grade Stainless Steel Built Machine.
Cap unscramble provide with vibratory type or universal hopper depending on type of cap.
Pneumatically regulated torque setting.
Machine Easy to operate with quick change parts and easy setting.
Adjustable height of conveyor belt to align with other machine of the line.
Unique pick and placement arrangement
Single motor synchronizes conveyor, star wheel and platform turret
Low power consumption
Request Quote
PLEASE NOTE: The information given herein is correct but ABUCKS INC, with their policy of continuous improvement of products has rights to change given specifications and model without prior information. For latest technical specification and any changes customers are advice to contact ABUCKS INC head office.
Contact Us
Abucks Inc
Contact: Mr. Joshi
Regd Office: 77/7, Unit Front Side,
B.D.D Block, Near Mahindra Tower Worli,
Mumbai, Maharashtra, 400018, India.