Automatic Sticker Labeling Machine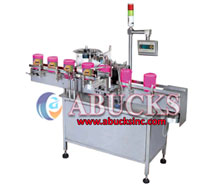 Application And Process
Automatic sticker labeling machine is elegantly designed linear labeling machine with different models Suitable for applying Front label, Front Back label and top labels with output ranging from 50-150 Labels per minute depending on products Shape/Size and label size. The Machine incorporates latest sophisticated PLC/Micro Processor based Control Label Dispensing system with user friendly Sensing interface for Label and Product. It is also equipped with Automatic Product Alignment system synchronized with top holding belt system.
Salient Features
"No Container – No Label" sensor provided to avoid wastage of labels.
Digital Stepper Drive for Label Dispensing Unit.
PLC based operation and variable frequency drive for speed control.
An inbuilt Digital Counter provided for total labeled containers.
An inbuilt real – time speed indicator will show actual speed of machine.
Label Roll End – Machine Stop automatically system is provided.
Inkjet printer can be fitted as an optional accessories.
Technical Specification
Production output
50 to 150 labels /min
(depends upon label length & container size/shape)
Dispensing speed
15 meters/ minute (approx.)
Container size
25 mm to 80 mm square
Label size
Length: 20 mm to unlimited
Label width
16 mm to 90 mm
Electrical supply
220 v / 50 hz, 0.5 hp
Request Quote
PLEASE NOTE: The information given herein is correct but ABUCKS INC, with their policy of continuous improvement of products has rights to change given specifications and model without prior information. For latest technical specification and any changes customers are advice to contact ABUCKS INC head office.
Contact Us
Abucks Inc
Contact: Mr. Joshi
Regd Office: 77/7, Unit Front Side,
B.D.D Block, Near Mahindra Tower Worli,
Mumbai, Maharashtra, 400018, India.