Semi Automatic Powder Filling Machine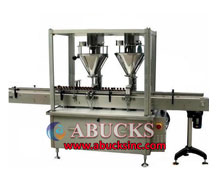 Process
Semi-automatic powder filling machine has wide application in accurate filling of free flowing powders in bottles, jars and containers. We have various models as per requirement of product and speed It can be made with single Head and double head to increase productivity of packaging this machine is made of stainless steel 304 and 316 material contact parts. Its application is as table salt filling machine, spices powder filling machine, talcum powder filling machine, herbal powder filling machine. The bottles are manually loaded in feed turn table with guided conveyor where the filling head is mounted in the machine top plate it is held by pneumatic bottle holder, the bottle sensor gets the signal and the magnetic clutch starts to rotate which is mounted on auger shaft with desired set amount of powder is filled in the bottle through auger by previously setting the rotation time of auger. After filling the piston goes back and release the bottle to move further and next bottle comes near filling head on the conveyor.
Application
This machine is widely used as pharmaceutical powder filling machine, talcum powder filling machine, insecticide powder filling machine, chemical powder filling machine, masala powder filling machine, spice powder filling machine, table salt filling machine etc.
Salient Features
Fill capacity 10 grams to 2000 grams.(depends on auger set and requirement)
No bottle no fill system
Conveyor driving with motor
Machine speed adjusted by A.C frequency
Easy to operate and maintenance free
30 to 60 BPM production capacity
Request Quote
PLEASE NOTE: The information given herein is correct but ABUCKS INC, with their policy of continuous improvement of products has rights to change given specifications and model without prior information. For latest technical specification and any changes customers are advice to contact ABUCKS INC head office.
Contact Us
Abucks Inc
Contact: Mr. Joshi
Regd Office: 77/7, Unit Front Side,
B.D.D Block, Near Mahindra Tower Worli,
Mumbai, Maharashtra, 400018, India.