Automatic Bottle Body / Neck Sleeve Applicator Machine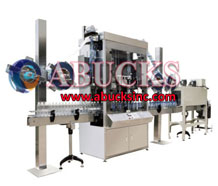 Application And Process
This is a high speed body sleeve applicator machine application for full body shrink sleeve for variety of bottles and containers used in industries like pharmaceutical, beverage and food products.
Technical Specification
Electric power
1.5 kw
Product size
25 mm to 150 mm
Production output
30 to 150 bpm
(depends on size and shape of bottle)
Sleeve material
pet, pvc
Material thickness
0.035 mm to 0.07 mm
Flat width
40mm to 240 mm
Cut length
40mm to 200 mm
Request Quote
PLEASE NOTE: The information given herein is correct but ABUCKS INC, with their policy of continuous improvement of products has rights to change given specifications and model without prior information. For latest technical specification and any changes customers are advice to contact ABUCKS INC head office.
Contact Us
Abucks Inc
Contact: Mr. Joshi
Regd Office: 77/7, Unit Front Side,
B.D.D Block, Near Mahindra Tower Worli,
Mumbai, Maharashtra, 400018, India.