Semi Automatic Pet Blow Moulding Machine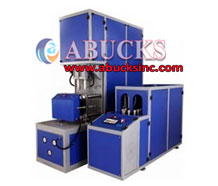 Application And Process
ABUCKS INC manufactures Semi-automatic pet blow molding machines at very competitive rates which enable emerging companies to manufacture plastic jar and pet bottle production from pet preforms. With specific working needs of various industries we provide optimum molding machines. Our machine is available with different technical specifications both semi-automatic and fully automatic machines as per clients requirement for pet blowing. Bottles size 30ml to 2 liters and jars from 5 liters to 20 liters can be made from this machines.

Application as drinking water bottle making machine, packaged water jar making machine, oil bottle making machine, pet bottle making machine,20 liter pet jar making making.
Salient Features
Low investment, and easy to operate.
Pet blowing output 600 to 1200 bottles per min.
Highly functional range of semi-automatic pet blowing machine.
Can make bottles and jars as per requirements.
Low energy consumption
High oven performance with proper ventilation.
Quick, accurate blowing valves.
Electric power required 40 HP
Request Quote
PLEASE NOTE: The information given herein is correct but ABUCKS INC, with their policy of continuous improvement of products has rights to change given specifications and model without prior information. For latest technical specification and any changes customers are advice to contact ABUCKS INC head office.
Contact Us
Abucks Inc
Contact: Mr. Joshi
Regd Office: 77/7, Unit Front Side,
B.D.D Block, Near Mahindra Tower Worli,
Mumbai, Maharashtra, 400018, India.