Automatic Induction Wad Inserting Machine / Wadding Machine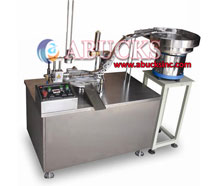 Application And Process
Cap lining machine or automatic wad inserting machine made elegantly from high quality SS 304 matt finish body. Machine is easy to operate and low maintenance and suitable for various types of caps further it automatically feeds wads inside the caps in high speed and with features like auto rejection of damaged wads. Machine within few minutes with minimum time and efforts can easily adjust change over parts for different types of wads. Output of wad insertion minimum 1200 to 3000 wads per hours depending on quality and size of wads.
Technical Specification
| | |
| --- | --- |
| Production output | 5000 to 12000 wads per hrs |
| Cap size | 20 mm to 55 mm |
| Wads thickness | 0.7mm to 1.5 mm |
| Compressed air | 5 kg pressure |
| Electric supply | 220v-50hz, 2 hp motor |
| Dimension | l-1600mm w-1200mm h-1500mm approx |
| Weight | 800 kg approx. |
Request Quote
PLEASE NOTE: The information given herein is correct but ABUCKS INC, with their policy of continuous improvement of products has rights to change given specifications and model without prior information. For latest technical specification and any changes customers are advice to contact ABUCKS INC head office.
Contact Us
Abucks Inc
Contact: Mr. Joshi
Regd Office: 77/7, Unit Front Side,
B.D.D Block, Near Mahindra Tower Worli,
Mumbai, Maharashtra, 400018, India.